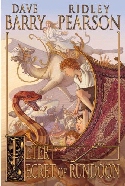 "I'll be careful," said Peter, grinning. "Aren't I always careful?'
"No," said James
In the third adventure of Peter's, we are taken to Rundoon as the starstuff is once in danger of evil people obtaining it. The dark is rising, and it is up to our heroes, once again, to save the day. In this adventure we meet the lost boys: Curly, Tootles, Nibs, and the twins. They had been sent to Rundoon to work for the King, but Peter invites them to escape and join him.
The shadow-man, the dark, is returning. It's kind of neat, actually, because he tries to use Peter's shadow, but can't get full control over Peter. At one point, Peter's shadow is separated from himself, which explains that right there.
So I don't really have much else to say about this book. I liked it though!