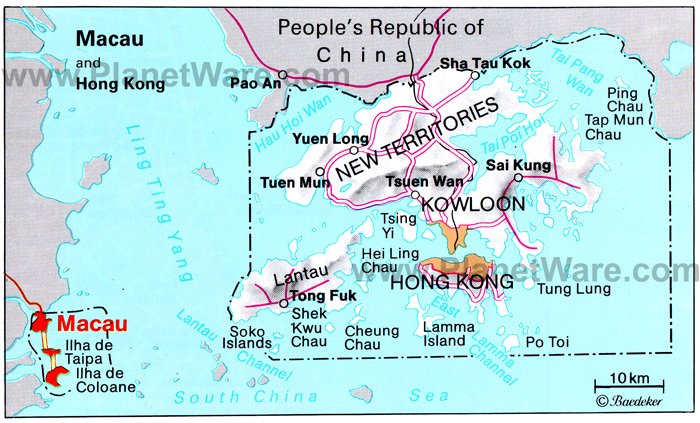 Saturday started out sunny, so we figured we should head out to Macau and take advantage
of the nice day. Wellllll. . . at least it didn't get too rainy! We took a turbojet out of Kowloon
to Macau. I got a little queasy on the ride (go motion sickness!), but it wasn't that long of
a trip and by the time we passed through customs I felt much better & ready for a
delicious, Macau-style, Portuguese lunch!
Turbojet
Excited to go to Macau!
Pedicabs: ready for tourists!
motorcycles & scooters everywhere!
After lunch we were ready to head out with the rest of the tourists and see the sites!
Ruins of St Paul's Cathedral
(Ruinas de Sao Paolo)
cobblestone roads
chillin by the cannon at Fortaleza do Monte
tried Haagen-Daz for the first time while taking a break from the rain
We headed back towards the casinos to figure out the buses and how to get to Hac Sa, the black sand beach, clear on the other side of Macau on the Ilha de Coloane. The islands have bridges between them, so we were able to bus it the whole way.
He was so excited to see the sand!
There were all these little pock marks in the sand. Crab holes?
The beaches have nets around them to make a swimming area.
It keeps the sharks and pollution out.
It looks like the picture is blurry, but that's really
what the sand looked like as the water went back out!
It had a way different feel than any sand I've been in before.
Dinner!
Octopus Mustache!
Spent the last of our MOP (Macau Money) on treats!
Ready to ride the turbojet home!
We had a great day at Macau! I loved it! There were old Portuguese buildings all over & I just loved their architecture. Macau is so diverse. There are all the remnants of the Portuguese colony with China built right on top of it. It's awesome!